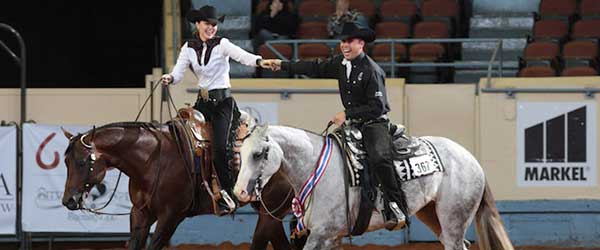 Corona, California (April 5, 2016) - The tentative schedule for the 2016 Lucas Oil AQHA World Championship Show is now available at www.aqha.com/worldshow.
The Lucas Oil World is set to return to State Fair Park November 3-19 in Oklahoma City. New this year, the Lucas Oil World will be starting a day earlier with junior and senior cutting preliminaries kicking the show off on Thursday, November 3.
Also new this year, 70 percent of the entry money will go to the class jackpot, while 30 percent of the entry will go to awards and administration costs.
The Lucas Oil World also plays host to the AQHA Level 2 Championships, presented by Adequan® (polysulfated glycosaminoglycan). Qualifying for these events ends July 31, 2016. For more information and to view the tentative schedule, visit www.aqha.com/worldshow.
About the Lucas Oil World
The Lucas Oil World is a pinnacle event for American Quarter Horse owners and exhibitors around the globe. Each November, thousands of competitors and their horses convene at State Fair Park in Oklahoma City for the Lucas Oil World. Competitors must reach a predetermined number of points to secure a spot in each of the classes. Competitors and their American Quarter Horses compete all year long to qualify for the honor of competing at this annual event and represent the disciplines of English, western and halter. The Lucas Oil World also plays host to the Adequan® AQHA Level 2 Championships for open and amateur exhibitors.
Lucas Oil is a proud sponsor of the Lucas Oil AQHA World Championship Show. Visit www.lucasoil.com for more information on Lucas Oil Products.
Presenting sponsors of the Lucas Oil World include: Adequan®, B&W Hitches, Farnam, Ford, John Deere, Justin Boots, Markel, Merial, Montana Silversmiths, Nutrena, Zoetis, Professional's Choice, SmartPak and Wrangler. Event sponsors include: Cripple Creek, Silver Spurs Equine Inc. and the Four Sixes Ranch. For more information on these companies and their products and services, visit www.aqha.com/partners.
AQHA News and information is a service of the American Quarter Horse Association. For more news and information, follow @AQHAnews on Twitter and visit www.aqha.com/news.
Source: AQHA (https://aqha.com/shows/world-show/news/04012016-lucas-oil-world-tentative-schedule-released/)