Latest News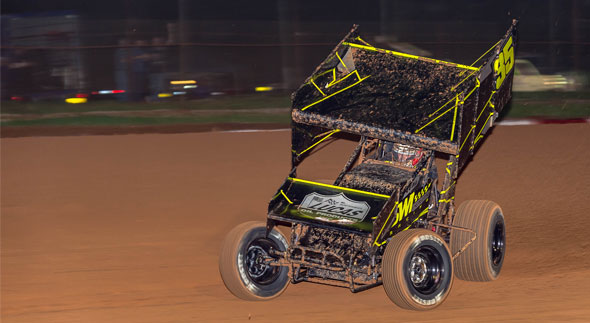 Lucas Oil Sprintcar racer Jamie Veal is on track for an impressive sixth straight win this weekend, but will have to be on top of his game with a fierce, 60 strong field waiting for him at Sydney's Valvoline Raceway.  
The SWI Engineering/Lucas Oil driver has a perfect strike record in the 2014/15 season, and returns to Sydney Speedway as the only Victorian to win three successive A-mains.
However, Veal, who has claimed another two victories since his last visit - at Moama where he lapped almost the entire field, and Avalon Raceway's $10,000 Sprintcar Jackpot - knows there will be a target on his back. 
"I'm looking forward to getting back and stirring things up again," Veal said.
"It will be challenging night, with a lot of guys keen to end my streak, but the #V35 SWI Engineering/Lucas Oil Maxim is in great form at the moment.
"Sydney has the toughest fields in the country at the moment, quantity and quality wise, so I'm looking forward to some good battle and putting on a show."
The Warrnambool racer won last time out at Parramatta, dicing with Max Dumesny for the lead over 17 laps before his opponent spun.
"We're up against some big names like Dumesny, David Murcott, Robbie Farr and Trevor Green, plus there is a really strong local contingent at Parramatta with guys like Ben Atkinson and Sam Walsh, who always race hard," Veal said. 
"We just need a decent marble draw ahead of time trials and to set a strong time in order to get a good starting position for the heats. I just hope the track is as good as it was last time, nice and wide, smooth and fast."
Veal is ready for a demanding summer schedule, fresh from a well-deserved holiday.  
"I've had some down time between the Avalon and this weekend, so I'm itching to pick up where I left off," he said.
"I've got a clear mind and I'm focused on taking that sixth win!" 
Round five of the Sprintcar Track Championship at Sydney Speedway gets underway with time trials at 6:00pm and racing from 7:00. 
Image © Matt Hines/Jigsaw Photography