Latest News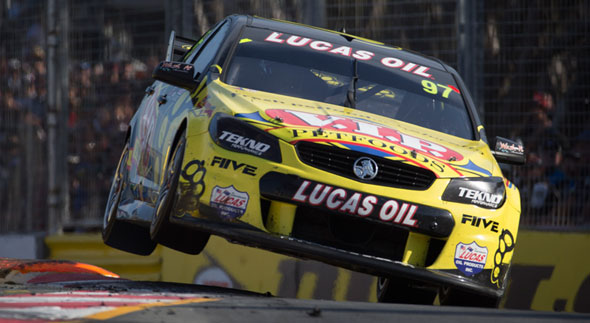 Reigning Sydney NRMA 500 champion Shane van Gisbergen is gunning for back-to-back victories at one of his favourite events, and securing third in the V8 Supercar Championship.
Van Gisbergen featured on the podium in both Sydney 500 races in 2013, winning the final of the year, and looks forward to the challenge of the concrete jungle. 
"I've always done pretty well at Homebush since the event started in 2009," Van Gisbergen said.
 
"It's one of my favourite events, and the VIP Petfoods/ Lucas Oil Commodore has been really strong at street circuits this year, so I'm looking forward to getting back to Sydney."
 
The TEKNO Autosports driver is currently fourth in the points, just 39 behind fellow Holden driver Craig Lowndes, and is fixated on a career best result. 
 
"Taking third is definitely achievable, so we'll be pushing hard. To get second, we would need [Mark] Winterbottom to have issues, and I don't wish that on him," he said.
 
"It's been a really good year for me and TEKNO Autosports, and I'm pretty excited to be more or less guaranteed a top four championship result."
 
The Sydney NRMA 500 sees the return of the Top 10 Shootout – a format Van Gisbergen has become a master of, winning three of four held this year.
 
Van Gisbergen heads into the final event with fond memories of 2014, and said Lucas Oil features in his favourite memories of the year.
 
"The highlight was announcing the partnership with Lucas Oil at Pukekohe, then winning the next day, and meeting Lucas Oil director of motorsports, Tom Bogner, at Townsville and finish on the podium there."
 
"So many things have happened this year, both good and bad, and I'm looking forward to finishing it off with on a high and another strong result for TEKNO Autosports."
 
For the first time, the Sydney NRMA 500 will be held over three races, with twin 125km sprints on Saturday, and a 250km feature over 74 laps to finish off the year on Sunday. 
 
Van Gisbergen will have 24 hard tyres at his disposal over the weekend.
 
The Sydney NRMA 500 gets underway with the first of four practice sessions at 9:35am AEDT Friday.