Latest News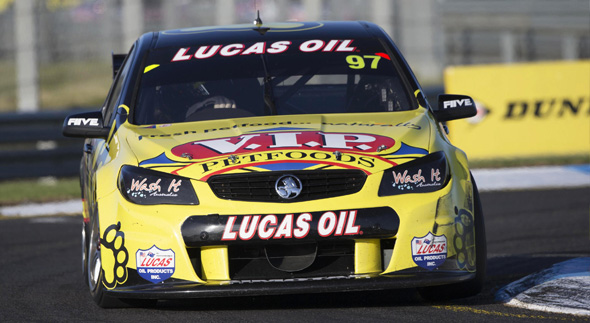 TEKNO Autosports' Shane van Gisbergen and Jonathon Webb rate themselves as serious contenders for victory at the Supercheap Auto Bathurst 1000.
The duo finished seventh at the traditional warm up race, the Sandown 500, despite a power steering failure and the speed of the VIP Petfoods/Lucas Oils Commodore has them in high spirits leading into the biggest race of the year.
Van Gisbergen, who is paired with Webb for the first time, believes he has the key resources to take out Australia's Great Race: a strong car and a solid co-driver.
"A win would mean everything to me. It'd be awesome to have my name on the Peter Brock Memorial Trophy. There's so many things that have to happen to make that possible but it would be unbelievable," Van Gisbergen said.
"We have a car that can do the job, we just need to get it right on the day. As long as the preparation's right and the car is strong from the start, I'm sure we can chip away at it.
"Webby's doing a good job and has shown he's quick enough to still be in the main game. We've got a fast car but I don't really have any expectations, we've just got to do the best we can."
Co-driver Webb says safety cars will play a factor on the day but feels the car has the potential to be up the front all day and fulfill his childhood aspiration.
"TEKNO always seems to have a reasonable car at Bathurst so Shane and I will be pushing hard all day to come away with the Peter Brock Trophy. We just need a little bit of luck as far as when the safety cars come, make sure we have track position so we don't double stack and have all the little things go our way." Webb said.
"It's a lifelong dream to win the Bathurst 1000. It's the race that everyone wants to win. You want to be able to say 'I've been on the top step at Bathurst.'"
For Van Gisbergen, the Bathurst 1000 is the ultimate event; having grown up watching fellow New Zealanders such as Jim Richards and Greg Murphy conquer the Mountain.
"I never went till I raced but I always watched it and supported all the Kiwis. To grow up watching the race and now be a part of it is pretty special."
The Kiwi's first encounter with Mt Panorama was in 2007 when he debuted at the age of 18. Since then, Van Gisbergen has a sixth place finish to his name and featured in four Top 10 Shootouts.
"The first time I went to Bathurst was pretty eye opening, it's such an amazing place. I remember my first laps – I was doing 2:15s and wondering how the hell they do 2:07s but I got the hang of it and I've enjoyed driving there ever since," Van Gisbergen said.
"Once you're on track, you just want to get on with it and start pushing the boundaries. It's probably the third, fourth and fifth laps each year that are the most exciting because you're settled in and really start pushing to find the limits."
Webb faces Mt Panorama for the ninth time as a driver but used to watch the race from the grandstand as a kid.
"Growing up it was something you idolised and wanted to be a part of. Ever since I was a kid it's been The Great Race and it still lives up to that reputation. I can't wait to get back every year," he said.
"I love the place but the first lap each year is always scary, I don't think there are too many guys that hold it flat out the first time out. You always have a bit of a breath and go again."
According to Van Gisbergen, you can't afford to second-guess yourself in order to be quick around the unforgiving mountain.
"You need tight belts and big balls for a quick lap! It's a tough track. You've got to have a good car and confidence to push hard," Van Gisbergen said.
"You're really on the edge and the risk is so high but watching the your lap times come down is exciting. When you push the boundaries, that's when you go fast.
"You've got to be so committed, especially through middle section over the top of the Mountain. That's where you can gain the most time. You definitely know when you've got it right over there."
Webb also knows self-belief and faith in the car is needed but is focused on keeping the car in a strong position for Van Gisbergen.
"From my position it's a little bit different this year as a co-driver. I don't have to go flat out chasing a lap record, which takes a bit of pressure off, but it's so competitive and I can't afford to just wobble around," Webb said.
"Obviously experience is one thing but you also need a good car, 100 per cent trust in the car and yourself, and the ability to throw everything at lap."