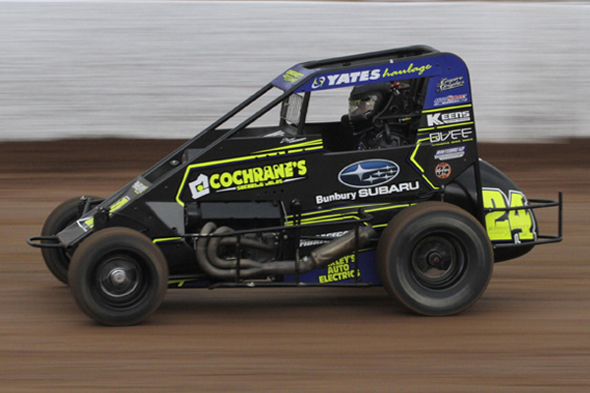 The 74th Lucas Oil Australian Speedcar Championship will be held at Premier Speedway for the first time in the event's history, and has attracted 47 of the Australia's top drivers and four Americans.
Reigning champion Adam Clarke is gunning for his fourth crown, which would see him join the legendary Sir Jack Brabham, Mike Figliomeni and Warrenne Ekins in second on the all time winners' list, just one behind five-time champions Andy McGavin, Ray Revell and Harry Neale.
Clarke is one of five former winners entered, along with 2013 title holder Neville Lance, Nathan Smee, as well as Americans Jerry Coons Jnr and two-time winner Davey Ray. All but one champion from the last nine years will compete, with only Kevin Swindell absent.
Joining Coons Jnr and Ray from America are two of the sports brightest stars, Tyler Thomas and Alex Bright, who both look to make a name for themselves with a successful jaunt down under.
The host state will be represented by 15 drivers, including: Lucas Oil's own Andy Pearce, and regular hard chargers Travis Mills, Troy Jordan, Braeden Palmer and Jason Donnelly.
There's also no shortage of interstate talent either, with New South Wales tearaways Matt Smith, Troy Jenkins and Mark Brown, Queenslanders Brendan Palmer and Brett Thomas, and South Aussie Lee Dillon all serious contenders.
Western Australian Dayne Kingshott will also be one to watch, after taking out the Victorian Speedcar title at Avalon Raceway last weekend.
The Lucas Oil Australian Speedcar Title takes place this Friday and Saturday night, with three rounds of heats and a preliminary feature on night one. A final round of heats takes place on Saturday to determine the grids for the C and B mains, before the 2015 Lucas Oil Speedcar Champion is crowned after a 40-lap final.
Tickets for the event can be purchased at www.premierspeedway.com.au
Image © Stephen Pickering/SprintcarZone