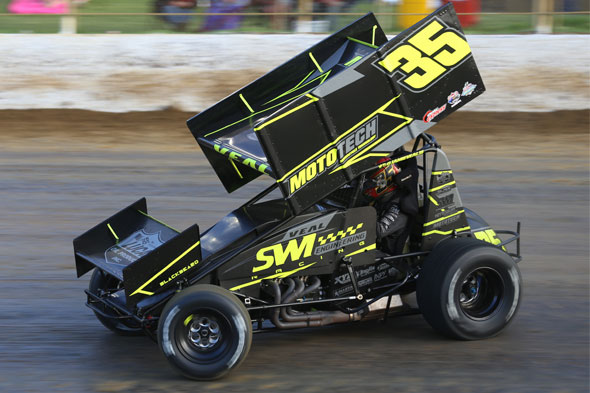 Veal achieved the feat at the 10th round of the Eureka Garages and Sheds Sprintcar Series on Sunday night when he recorded a 9.963-second time in his SWI Engineering/Lucas Oil Maxim around the renowned Premier Speedway during the Top Six Shootout.
"The lap felt great – there was plenty of grip on the bottom line and the conditions were just perfect. It felt fast, but I didn't realise it was sub 10-second fast," Veal said.
"The prize made us all go out and work for it, and I have to thank Ian 'Motors' Grant for putting up the money. $10,000 is not a bad pay day!"
Veal backed up his qualifying form with his 11th feature race win of the season, and fourth of the season at Sungold Stadium.
Veal led the 30-lapper from start to finish with the victory putting him in prime position to clinch back-to-back track championships, Veal now holding a 250-point lead over second placed Darren Mollenoyux.
"It's really cool to be the first person to run in the nines, but my focus is still on winning the track championship and the Eureka Garages Series," Veal said.
"I'm just want to finish the season on a high."
The SWI Engineering team heads to Avalon Raceway for this weekend's 11th round of the Eureka Garages and Sheds Series.