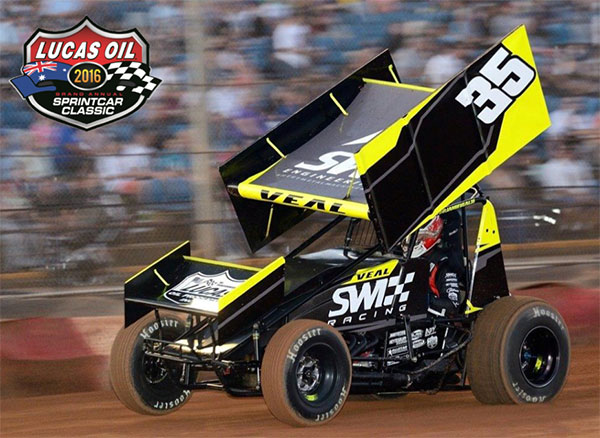 www.lucasoil.com.au (January 24, 2016) - Local hero Jamie Veal made the perfect start to his 2016 Lucas Oils Grand Annual Sprintcar Classic by dominating the A-Main on night 2 at the Sungold Stadium at Warrnambool. After starting on the pole Veal jumped straight into the lead and never looked like being headed as he defeated defending race Champion Kyle Hirst and Randy Hannagan.
That feels pretty good. We struggled a bit during time trials but we got the car rolling around pretty good in the heats and then the final. Glen and Juddy gave me a great car in the final" added Jamie after the event.
The opening lap of the A-Main saw a multi car accident in turn two as Bryan Mann spun in front of the field causing a train wreck like incident that involved Mitchell Gee, Dave Murcott, Luke Walker, Cory McCallugh and Toby Bellbowen, who rolled onto his side but was able to continue.
On the restart it was all Veal who opened up a sizeable gap on the field, a gap that would only be reduced due to a late race caution involving Chad Ely and Brendan Guerin.
Fourth across the line was an extremely impressive Jamie Maiolo with Kraig Kinser, who transferred from the B-Main completing the top five. Robbie Farr, Jason Sides, dual Champion Steven Lines, Dave Murcott and Garry Brazier rounded out the top 10.
Earlier Chad Ely and Toby Bellbowen set the fastest times in their time trial groups.
Heat winners were Bryan Mann, Dave Murcott, Shaun Bradford, Chad Ely, Randy Hannagan, Kyle Hirst, Brendan Quinn, Andrew Wright, Ricky Maiolo, Jamie Maiolo, Jamie Veal and Darren Jensen.
Chris Soloman won the C-Main while Mitchell Gee, Luke Walker, Kraig Kinser and Corey McCullagh transferred to the A-Main via the B Main.