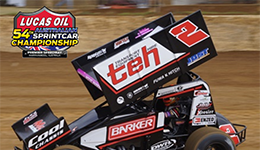 Brooke Tatnell reminded everyone at the Sungold Stadium tonight that he has come to reclaim the big number 1 as he duelled with Kerry Madsen in an epic final to claim night 1 of 2016 Lucas Oils Australian Sprintcar Championship.
Tatnell defeated Kerry Madsen and current Australian Champion Dave Murcott in what was a great way to kick off the 54th Australian Championship.
On the start pole sitter Luke Dillon got the jump over Grant Anderson but Anderson got the lead in turn three on the completion of lap one. It wasn't long before the caution light was on for Max Johnston who tagged the wall in turn one on lap two.
On the restart Anderson led away and as the laps ticked away the race behind the leader was intense with Kerry Madsen, Brooke Tatnell, Dillon and Sam Walsh all putting a great show.
With Anderson trapped on the bottom Tatnell managed to get by Anderson for the lead with Madsen quickly getting by for second. The caution light then came out for Jamie Maiolo who hit the wall in turn four with seven laps remaining.
On the restart Tatnell and Madsen put on an epic battle trading slide jobs for the lead. The race was then under red after a huge crash between Craig Vanderstelt and Shaun Dobson in turn four. At the same time Luke Dillon pulled out of the main event.
Fourth place went to early race leader Grant Anderson with Sam Walsh, Nick Lacey, Daniel Harding, Brad Keller, Shaun Bradford and Matt Egel rounding out the top 10.
Tim Rankin, who was back in his Family owned ride this weekend, Danny Reidy, Andrew Scheuerle and James Hennessy transferred from the B-Main while Murray Bridge resident Ryan Jones and Bendigo's Kristy Ellis made their way on the back of the B-Main via the C. The C-main proved to be a tough event to complete with multiple stoppages even before a lap was run including Jamie Stark who inverted his #72 Triple X, which was supporting a special Australian Championship paint scheme, in turn one.
The C-Main also saw New South Welshman Peter O'Neill roll in turn four as he was being lapped with the second placed runner Tim Hutchins being involved as he was left nowhere to go.
The B-Main saw a huge multi car accident in turn four that was triggered by Ryan Jones who made contact with Glen Sutherland who rolled along with Western Australian Jason Pryde. Victorian Ryan Davis was also involved.
Earlier the heat winners were Brad Keller, Sam Walsh, Luke Dillon, Tim Rankin, Brad Maiolo, Grant Anderson, Shaun Dobson and Nick Lacey.
During the night the dates for the 2017 Australian Sprintcar Championship were confirmed with the event to take place at the Valvoline Raceway in Sydney between January 26, 27 & 28.