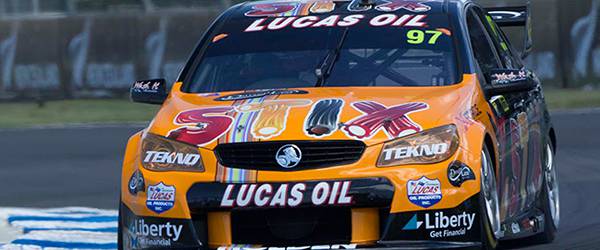 www.lucasoil.com.au (November 17, 2015) - Lucas Oil V8 Supercar driver Shane van Gisbergen isn't getting distracted by those around him ahead of this weekend's WD-40 Phillip Island SuperSprint.
Van Gisbergen is fifth in points going into this weekend's penultimate round, and locked in a tight battle back for fourth place, looking to close the 28-point gap to rival Garth Tander, while also fending off Fabian Coulthard, who is 17 points behind.
The Darrell Lea STIX Commodore pilot admitted he's focussing at the task at hand and not getting caught up in the details.
"I'm going to Phillip Island to get results and points. The rest will look after itself," Van Gisbergen said.
"We've struggled at tracks like Phillip Island in previous years, but I don't get concerned by the past. We've had a good speed and consistency lately, and I'm excited by the direction we've taken – especially heading to a track that puts so much emphasis on a balanced car.
"TEKNO has shown in recent events its true form, and I aim on repeating it this weekend."
The 4.445km Phillip Island Grand Prix circuit, situated two hours South East of Melbourne, is notorious for its variable weather conditions and strong winds on the main straight.
"Every lap you look up at the to see which way the wind is coming from because it changes that often," Van Gisbergen said.
"You've got to be brave through the first turn and have total faith in your car, otherwise you're in for a wild ride. Everything has to be perfect around the island.
"There's been a lot of grip since the track was resurfaced in 2012, and the two hairpins at Turns 5 and 10 are great passing opportunities if you can pull up without locking a brake."
The WD-40 Phillip Island SuperSprint takes place this weekend, with twin 14-lap dashes on Saturday, ahead of a 45-lap race on Sunday.
FOX Sports will bring all the action live and in HD each day, while Network 10 and ONE HD will bring one-hour of highlights on Saturday and Sunday.