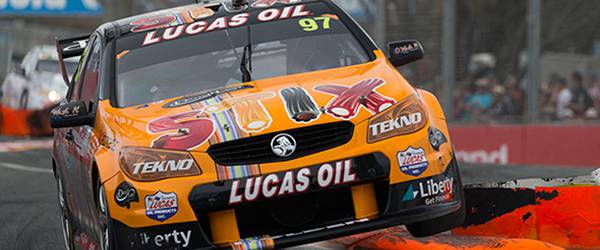 Lucas Oil V8 racer Shane van Gisbergen is determined to end his time at TEKNO Autosports by claiming his third consecutive Coates Hire Sydney 500 victory.
Van Gisbergen has won the past two years on the tough Homebush street circuit and said he's confident of claiming the three-peat.

"My plan is to get amongst it and have a red hot go. It would be awesome to go three in a row here," Van Gisbergen said.

"The #97 Darrell Lea STIX Commodore is strong enough to win on street tracks and we were really quick here last year, so I'm going to give it everything. It would be fitting to end my time with TEKNO and Lucas Oil with a win and we've always been strong at Homebush."

This weekend will be the final time Van Gisbergen races for TEKNO Autosports, and after celebrating seven victories, a further 20 podium finishes and six pole positions over the past three years he said it will be an emotional weekend.

"It hit home on Monday when I was in the workshop and saw all the trophies. It will be a sad moment at the end of the weekend, but my focus is to add to my tally this weekend and go out on a high for TEKNO Autosports and Lucas Oil," Van Gisbergen said.

Van Gisbergen is also set on maintaining his perfect Top 10 Shootout record in a Holden this weekend.

"We've made every single Top 10 Shootout since 2013, so there's a bit of pressure to make the final one on Sunday," he said.

The 3.42km circuit around the Sydney Olympic Park precinct is notoriously tough, but Van Gisbergen knows a strong qualifying position puts you in with a chance.

"It's a tough circuit and you've got to wrestle the car over the kerbs to be fast. Turns 2 and 4 have big kerbs, so if you can get over them cleanly, you're in for a good lap.

"As long as you start the weekend with a reasonable car, you can make it work and if you're in the Top 10 to start with, you've got a shot of winning," he said.

Practice for the Coates Hire Sydney 500 gets underway from 10:25 AEDT tomorrow, with two 37-lap races on Saturday and a gruelling 74-laps on Sunday.