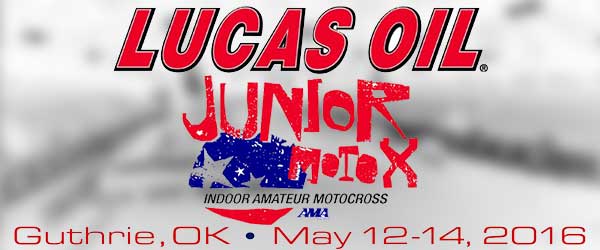 New Smyrna Beach, Florida (March 4, 2016) – Monster Energy has joined the rapidly growing list of major companies pledging their support for the inaugural Lucas Oil JuniorMotoX coming up this May 12-14 inside the Lazy E Arena.
The venue is a spectacular facility with a large floor and some of the best dirt on earth for racing dirt bikes so it will be a great foundation to create a premium event. The JuniorMotoX will be limited just 600 entries to provide quality track time and feature a live Webcast of both the Friday qualifiers and Saturday evening main events in addition to a MAVTV show the following week.
"A great facility, race track, location and live webcast with TV coverage makes this to one of the must do events for all of the up and coming amateur racers," said Aaron Nixon, Monster Energy Sports Marketing Manager. "We look forward to seeing this all come together."
"The Monster Energy management team immediately got it when we showed them our plans for the JuniorMotoX," said Eric Peronnard, the co-creator of the JuniorMotoX. "We are so happy to have Monster on board to help make this event a big success."
Check out the latest from Monster Energy at: www.monsterenergy.com.
The Lucas Oil JuniorMotoX, presented by Monster Energy will bring amateur racing to a new level with a Supercross style course that is nearly 2,000 feet long featuring some of the best dirt on earth. Jerry Masterpool will provide input on track design, which will include a separate lane featuring more challenging obstacles for the more experienced riders/classes. The event will also feature a live webcast of the Friday qualifiers and Saturday night main events, plus a feature show on MAVTV.
Check out the track preview video: https://www.youtube.com/watch?v=3WY7SsRDMcE
Entries limited to 600 so enter before it is too late!
For the latest Lucas Oil JuniorMotoX information or to register to enter, please visit: www.juniormotox.com.