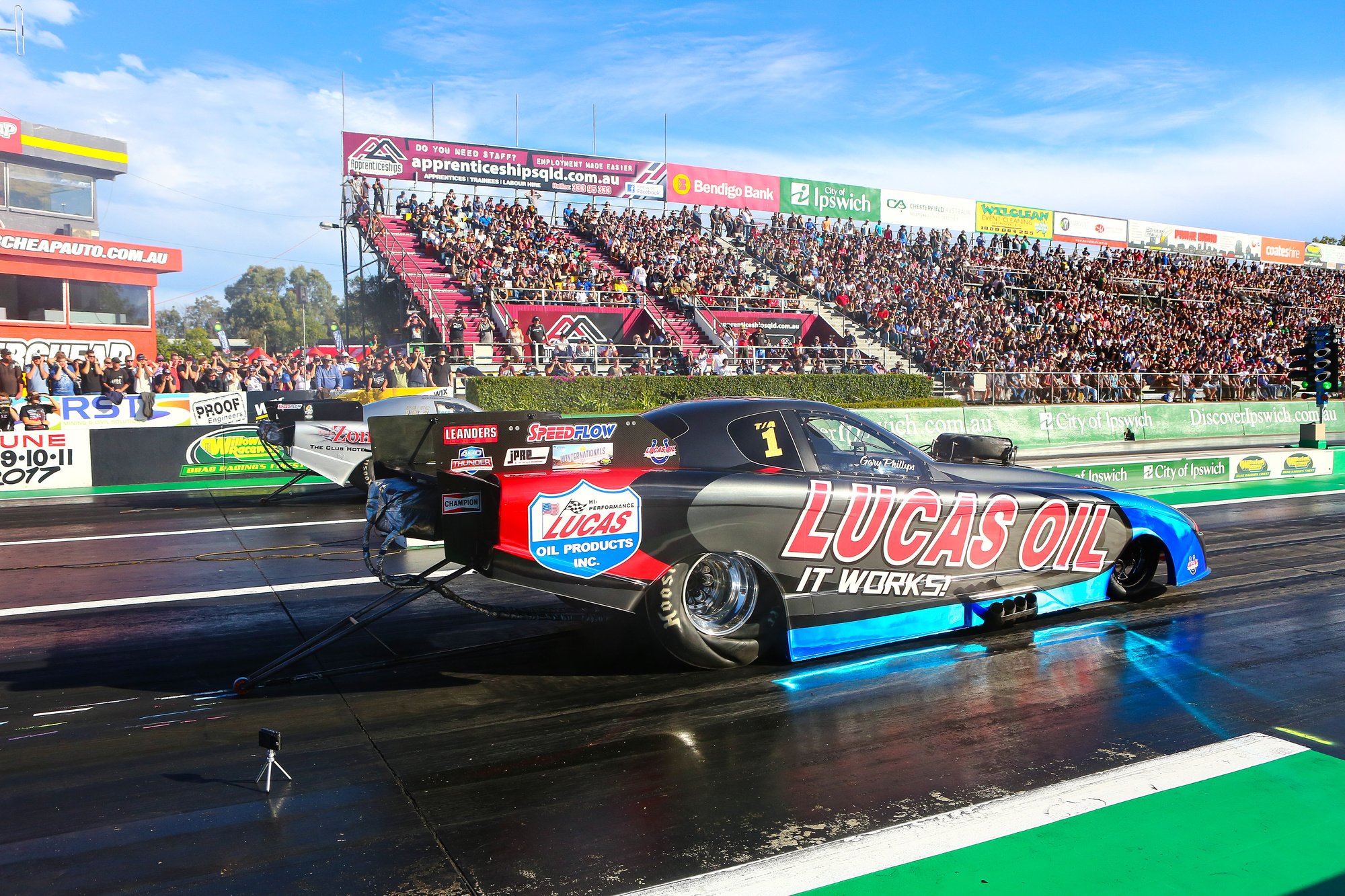 Gary Phillips has claimed his 19th Australian Championship in his Lucas Oils Alcohol Funny Car en-route to his 13th Winternationals win, in front of a huge crowd last weekend at Willowbank Raceway.
In what was the quickest Alcohol field in Australian history, that saw the bump spot set at 5.65 secs., Gary qualified #2 with a 5.406 at 268.81mph.
"It's really exciting to see how much the performance level of the Alcohol class has stepped up in recent times. There's no easy match ups, and you have to go out there and try cut a light, and run as fast as the track allows each and every run", said Gary.

In round 1 of eliminations, Gary used a 5.415 at 267.06mph to take the win. The semi-final match up, would be the defining moment of the 2016 Championship for the 400 Thunder Series. After turning on the win-light, Gary would become the inaugural Pro Alcohol Champion, lighting up the scoreboard with a 5.361 at a history making 270.43mph (435.21kph). This would be the very first Alcohol run in excess of 270mph that Australia has seen, and would also be the new National Speed Record, after it was backed up by the earlier 268.81mph run in qualifying.

"We have been chasing that 270 for some time now, and when that semi-final run could decide the championship, we went up there with a very aggressive setup, knowing that the Willowbank track prep crew would have the surface in outstanding shape, which it was".

The final promised to be an exciting match up, and certainly was for all the wrong reasons. After getting loose early in the run, Gary's opponent would cross the centreline making contact with the headers on the Lucas Oils funny car which then exploded his right hand tyre. This caused substantial damage to the Lucas Oil Monte Carlo body and actually cut the left hand tyre. Fortunately, it held air long enough to get to the finish line. Gary took the win and extended his final championship win margin to 68 points, after being forced off the throttle early, and coasted through for a winning time of 5.699 at only 204.98mph.

"It was an eventful season, but we came away with the Australian Championship, new speed record, as well as the event win. A sincere thank you goes to our major sponsor Lucas Oil, along with our associates, Speedflow, Leanders Clutches, J Payne Race Engineering".

"This was a history making season filled with many firsts, and we are proud to have our name attached to each and every one of these achievements. The first to the 5.30's, the first over 270mph, and the first IHRA 400 Thunder Champion. I'm hoping that next season can be even bigger and better".

Gary made his weekend even more action packed, by also competing in his 1953 Studebaker Pro Slammer. After a lot of small changes to the car, Gary qualified #4 with an off the trailer 5.915 at 246.21mph, proving that all the homework done in the workshop had paid off.

Gary recorded his personal best ET of 5.872 at 247.61mph, to claim the win in round 1. Unfortunately, the progress was stopped in round 2, after tyre shake plagued the Lucas Oils car, forcing Gary to wisely get off the throttle.

"Despite losing in the 2nd round, we're very pleased with the progress we made last weekend. To come away with a personal best at this prestigious event is just great. To end the season on a high with both cars, is the best way to head into our break. We can't wait for our next event which is only three weeks away".

Gary also would like to thank his dedicated crew for all the hard work and support throughout this season.

For more information, and to keep up to date with the team's results, check out their Facebook page at, www.facebook.com/GaryPhillipsRacing.