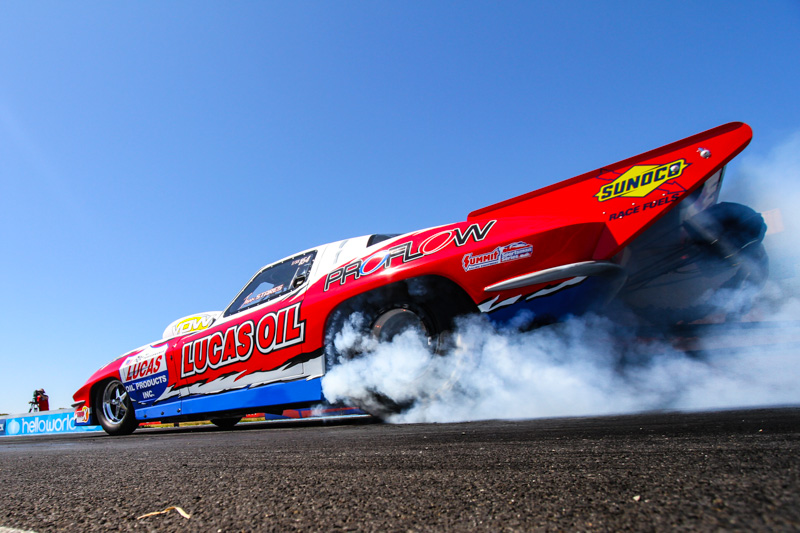 Stares and his beautiful Lucas Oils/VPW 1963 Corvette are making the long trek up from New South Wales to compete as part of the 'northern swing', which takes in events at both Darwin and Alice Springs.

"I've been very fortunate in my travels but this is my first time in Darwin and from what I hear it's an amazing place to visit so we are very much looking forward to it," he said.

"With a week between the Darwin and Alice Spring race we will definitely be having a rest and checking out some of the local sights."

With his first Top Sportsman title now part of history, Stares is looking forward to commencing work on a second. A strong start to the Summit Sportsman Series at Hidden Valley Drag Strip would be the perfect platform to launch his championship defence.

"You always want to have a great start to the season but either way I feel very fortunate to get to race in such a great place in front of what should be a great crowd," he said. "So no matter what the outcome this time round it's a great start to the season.

"Our goals are as always, to have a safe, good time and try to bring the big trophy home and set ourselves up for another great season to come. It's a great opportunity to get my amazing sponsors some exposure in some locations we have never raced at. A massive thank you to Aaron Brookes from VPW and Jeff Pahlke from Lucas Oil Products Australia as without their support I wouldn't have these great opportunities."

Top Sportsman will truly have national representation with teams flocking from around the country to join Darwin's biggest drag racing party. Stares from New South Wales, Benny Phillips from Victoria, Frank Oliveri from Queensland and Darren Saliba from South Australia will be joined by the Northern Territory's own Brad Hagen, Todd Knight and Grant Radcliffe in a showdown of super-quick sedans.

Nitro Up North takes place on July 8 and 9 at Hidden Valley Drag Strip.