CHICAGO (July 10) -- Richie Crampton, driver of the Lucas Oil Top Fuel dragster, celebrated his 36th birthday Saturday by qualifying in the top half of the 16-car field in the No. 8 position.

Unfortunately, he wasn't able to garner a slightly belated birthday gift for himself in eliminations at the K&N Filters Route 66 NHRA Nationals on Sunday at Route 66 Raceway.

Racing against No. 9 qualifier Leah Pritchett in the first round, Crampton's 10,000-horsepower Lucas Oil dragster lost traction almost immediately after he stepped on the throttle pedal. Pritchett had no troubles with traction in her lane and won the race unchallenged, 3.774 at 323.35 mph to Crampton's 9.389 at 78.96 mph.

"We had a tough day today," Crampton said. "You never want to end your day like that. I feel bad for all my Lucas Oil guys. It's been really warm here in Chicago, but my guys never missed a beat.

"We'll keep our heads up and regroup and go to Denver expecting to win. You always have to go to the racetrack thinking you've got race car that can win it all, and we do with our Lucas Oil dragster. We know we have all the puzzle pieces, we just need put them all in the right places."

The Lucas Oil team leaves Chicago tied for eighth in Mello Yello Top Fuel championship points. Only five events remain in NHRA's regular season before the playoffs, the Countdown to the Championship, begin in September. Only the top 10 in points at the conclusion of the U.S. Nationals in Indianapolis on Labor Day weekend are eligible to compete for the season championship.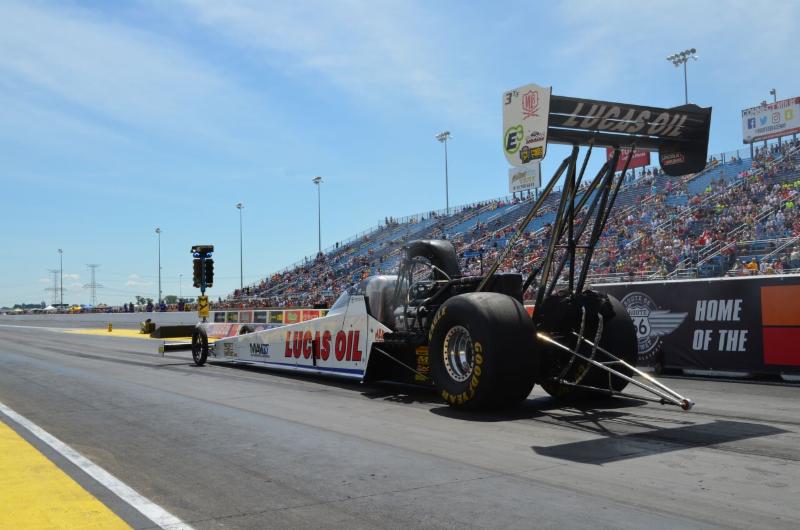 Crampton and the rest of the Top Fuel dragster class will next compete in Denver in two weeks, beginning NHRA's traditional Western Swing, which continues in Sonoma, Calif., and Seattle in consecutive weekends.